Nasze rozwiązania dla branży usług motoryzacyjnych
Zaplecze motoryzacyjne ma dla użytkowników pojazdów kolosalne znaczenie, a najwyższa jakość świadczonych usług jest dla firm z tego sektora warunkiem przetrwania na rynku. Taką jakość, poza wykwalifikowanym personelem, zapewnić może wyłącznie niezawodny sprzęt dopasowany do specyficznych potrzeb branży oraz konkretnych, realnych potrzeb danego przedsiębiorstwa. Sprzęt pneumatyczny od lat pozostaje najbardziej optymalnym i wydajnym rozwiązaniem dla zakładów usługowych branży motoryzacyjnej. Podczas doboru najlepszego wyposażenia, najlepiej zaufać fachowcom, którzy dysponują wiedzą popartą wieloletnim doświadczeniem i znajomością rynku. W Airpress jesteśmy do Twojej dyspozycji!
Od wielu lat zaopatrujemy przedsiębiorstwa usługowe z branży motoryzacyjnej w profesjonalny sprzęt pneumatyczny. W trakcie długotrwałej i owocnej współpracy z przedstawicielami tego sektora, opracowaliśmy szereg rozwiązań dedykowanych konkretnym potrzebom rynku usług motoryzacyjnych. Nie bój się inwestować w nowoczesne i profesjonalne wyposażenie! Zaufało nam już wiele firm z branży napraw samochodowych, które z powodzeniem wdrażają kolejne ulepszenia, z korzyścią dla efektywności pracy i wyników finansowych. Sprawdź nas i dołącz do grona sprawnie działających i prężnie rozwijających się przedsiębiorstw usługowych z branży automotive!
Wybierz obszar działalności Twojego zakładu usługowego i poznaj nasze rozwiązania dla Twojego biznesu!
Optymalne rozwiązania dla branży usług motoryzacyjnych - 3 kroki do sukcesu
Branża motoryzacyjna w pierwszej kolejności kojarzy nam się zwykle z przemysłem motoryzacyjnym, w którym pierwsze skrzypce grają wielkie koncerny samochodowe odpowiedzialne za projektowanie oraz produkcję pojazdów, drugie zaś - producenci z branży automotive, specjalizujący się w dostarczaniu elementów konstrukcyjnych i części motoryzacyjnych niezbędnych w procesach produkcji oraz różnego rodzaju czynnościach serwisowych, konserwacyjnych i naprawczych. W istocie branża motoryzacyjna, po wykluczeniu dziedziny konstrukcji, produkcji i dystrybucji pojazdów mechanicznych oraz części, obejmuje przede wszystkim wszelkiego rodzaju przedsiębiorstwa usługowe, w tym głównie zakłady wulkanizacyjne, warsztaty mechaniczne, serwisy i warsztaty samochodowe, zakłady blacharsko-lakiernicze, lakiernie, stacje benzynowe oraz myjnie samochodowe, czyli całe tzw. zaplecze motoryzacyjne.
Sektor usługowy branży motoryzacyjnej jest szczególnie podatny na wszelkiego rodzaju kryzysy oraz wywołane przez nie zmiany zachowań konsumenckich. Jest również bezpośrednio i w sposób bardzo różnorodny zależny od przemian zachodzących na rynku motoryzacyjnym w zakresie projektowania i produkcji pojazdów. Ponadto branża usług motoryzacyjnych w Polsce od lat musi mierzyć się z szeregiem przeszkód w postaci piętrzących się zawiłości administracyjnych, zaniżania stawek przez towarzystwa ubezpieczeniowe czy stale pogłębiającego się problemu braków kadrowych. Znając niełatwe warunki, w jakich funkcjonują przedsiębiorcy świadczący usługi motoryzacyjne, doskonale rozumiemy, jak powinny wyglądać optymalne rozwiązania dla Twojej branży.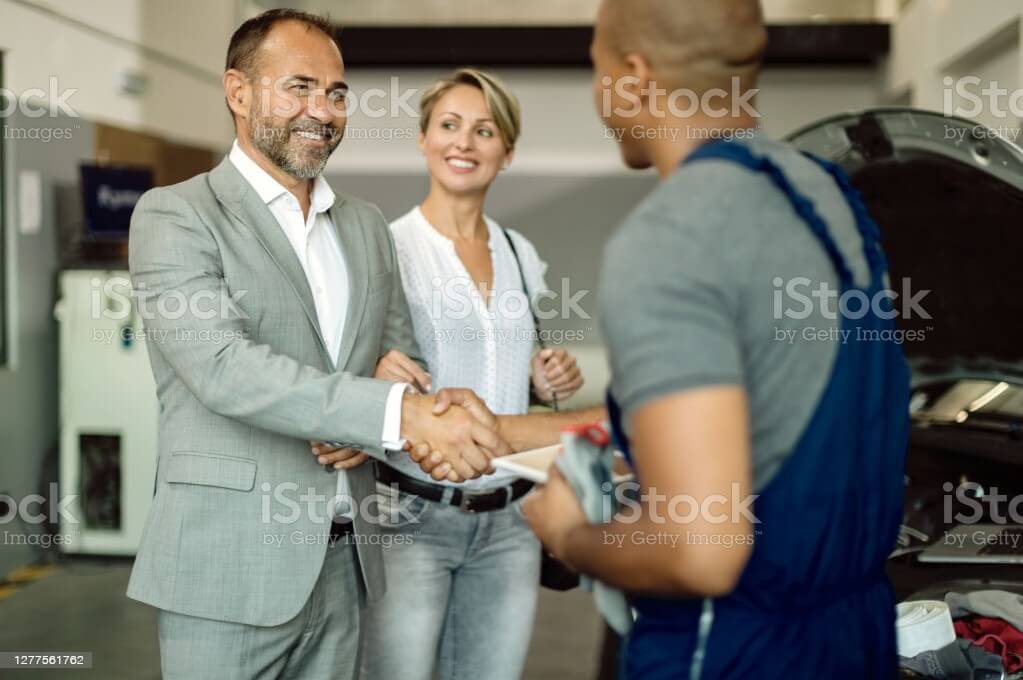 Po pierwsze: Wytrzymałość. Inwestycje w sprzęt, który bez zarzutu będzie służył Ci latami, są podstawą rozsądnego myślenia o oszczędności. Wybierając tani i wątpliwej jakości asortyment być może minimalizujesz koszt zakupu, narażasz się jednak na dodatkowe wydatki związane z koniecznością częstej wymiany wyposażenia, a także na poważne straty wizerunkowe w przypadku obniżonej jakości efektów Twojej pracy. W Airpress nieustannie i z wielką dokładnością dobieramy materiały konstrukcyjne oraz nadzorujemy procesy produkcji, by zaoferować Ci jak najwyższą jakość za przystępną cenę. Zapewniamy również sprawną i w pełni profesjonalną obsługę serwisową, która zadba o regularną i prawidłową konserwację Twojego sprzętu, dodatkowo zwiększając jego żywotność. Kupuj bezpośrednio od lidera branży pneumatycznej i wyposaż swój zakład na długie lata!
Po drugie: Wydajność. Bo w Twoim biznesie czas to pieniądz. Tylko naprawdę wydajny sprzęt pozwoli Ci generować znaczne nadwyżki czasu, a tym samym zwiększać produktywność Twojego zakładu, przy zachowaniu nienagannej jakości świadczonych usług. Sprawne i wydajne wyposażenie warsztatu pozwoli Ci również utrzymać efektywność pracy na zadowalającym poziomie, nawet przy zmniejszonej liczbie pracowników. Dzięki niemu możesz również poszerzać zakres usług i wyróżnić się na tle konkurencji. Dlatego od lat inwestujemy w rozwój technologiczny i stale ulepszamy parametry techniczne naszego sprzętu, wprowadzając kolejne innowacje podnoszące wydajność oferowanych produktów. Zadbaj o rentowność Twojego zakładu - pracuj szybciej i oferuj więcej z profesjonalnym sprzętem Airpress!
Po trzecie: Energooszczędność. Bo koszt zakupu wyposażenia to tylko kropla w morzu wydatków, jakie niesie ze sobą utrzymanie zakładu. Paradoksalnie, nie oznacza to wcale, że należy na nim przesadnie oszczędzać. Specjaliści szacują, że w Całkowitym Koszcie Posiadania sprzętu (TCO), cena jego zakupu stanowi niewiele ponad 10%. Prawie 80% kosztów ogólnych związanych z jego eksploatacją stanowią wydatki na energię elektryczną. Oszczędność energii wprost proporcjonalnie przekłada się na oszczędność pieniędzy i to w sposób dużo bardziej namacalny niż zakup taniego sprzętu, który generuje ogromne koszty w trakcie użytkowania. Dziś nie ma już żadnych wątpliwości co do tego, że przyszłość zarówno pneumatyki, jak i przedsiębiorstw korzystających z jej dobrodziejstw, kształtować się będzie pod znakiem energooszczędności. Nasza oferta sukcesywnie dostosowuje się do tych nowych realiów, a wydajność energetyczna naszego sprzętu jest dla nas jednym z największych powodów do dumy. Wybieraj mądrze i oszczędzaj z głową - zabezpiecz z nami przyszłość Twojego biznesu!